How to Write the Perfect Google Business Post for Your Physiotherapy Clinic
As a physiotherapy clinic owner, you're always looking for ways to attract more patients and grow your business. One method that should be overlooked is the value of regularly publishing Google Business Posts.
Let's take a look at what a Google Business Post is, why it matters, and how to create the perfect post using the six different types available.
RELATED READING: The Ultimate Guide to SEO for Physiotherapy Clinics in 2023
What is a Google Business Post?
A Google Business Post is a feature offered by Google My Business, allowing businesses to share updates directly on their Google Maps listing. When potential patients search for a physiotherapy clinic in your area, your Google Business Posts will appear alongside your business information, making your clinic stand out from the competition.
Why Google Business Posts Matter
Google Business Posts are essential for several reasons:
They help improve your local search ranking, making it easier for potential patients to find your clinic.
They allow you to showcase your expertise and services, giving potential patients a reason to choose your clinic over others.
They help you build trust with your audience by sharing relevant content and engaging with them.
Now that you understand the importance of Google Business Posts let's dive into the six different types of posts available for your physiotherapy clinic.
1. Updates
Updates are ideal for sharing timely information about your clinic, such as new services, changes in operating hours, or the addition of a new team member. Make sure your updates are concise, informative, and relevant to your target audience.
2. Photos
Photos are a powerful way to showcase your clinic's facilities, equipment, and team members. High-quality, professional photos can help create a positive first impression and encourage potential patients to choose your clinic.
3. Reviews
Sharing positive reviews from satisfied patients can help build trust and credibility for your clinic. Make sure to respond to all reviews, both positive and negative, to show that you value your patients' feedback and are committed to improving your services.
4. Offers
Offers are an excellent way to promote special discounts or packages for your physiotherapy services. Create compelling offers that appeal to your target audience and highlight the benefits of choosing your clinic.
5. Events
If your clinic is hosting a workshop, seminar, or open house, use the Events post type to share details with your audience. This can help boost attendance and raise awareness about your clinic's expertise in physiotherapy.
6. FAQ
Address common questions and concerns your potential patients might have by creating informative FAQ posts. This can help establish your clinic as a knowledgeable resource for physiotherapy and encourage potential patients to book an appointment.
Engaging Google Business Post Examples and Templates for Physiotherapy Clinics
Creating engaging Google Business Posts is essential to attract potential patients and keep your existing ones informed. Here are some examples and templates you can use to craft effective and attention-grabbing posts for your physiotherapy clinic.
1. Update: New Service Announcement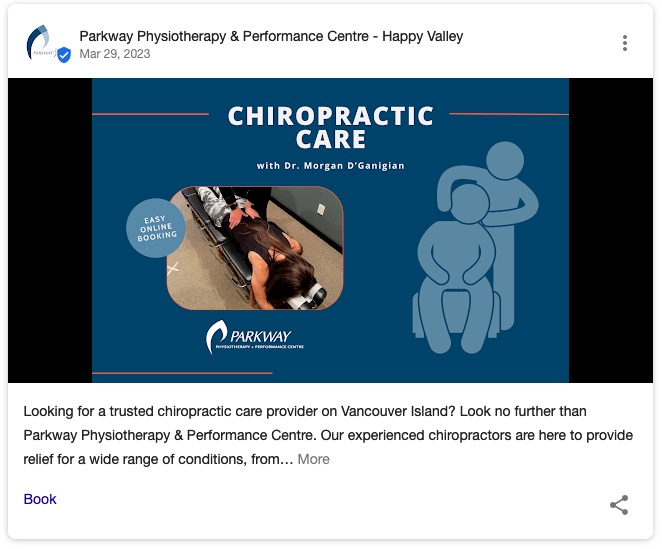 Example 1: We're excited to announce the addition of [New Service] to our list of physiotherapy services! Book an appointment now and experience the benefits of [New Service] for yourself.
Example 2: We're thrilled to introduce [New Service] at our clinic! Discover how [New Service] can help you on your journey to better health. Schedule your appointment today!
2. Photo: Facility Showcase
Example 1: Take a look at our state-of-the-art physiotherapy facility, equipped with the latest technology to ensure you receive the best possible care. Visit us today!
Example 2: Explore our modern and comfortable physiotherapy clinic, designed to provide you with a relaxing and healing environment. Book your appointment and experience it for yourself!
3. Review: Highlighting Positive Feedback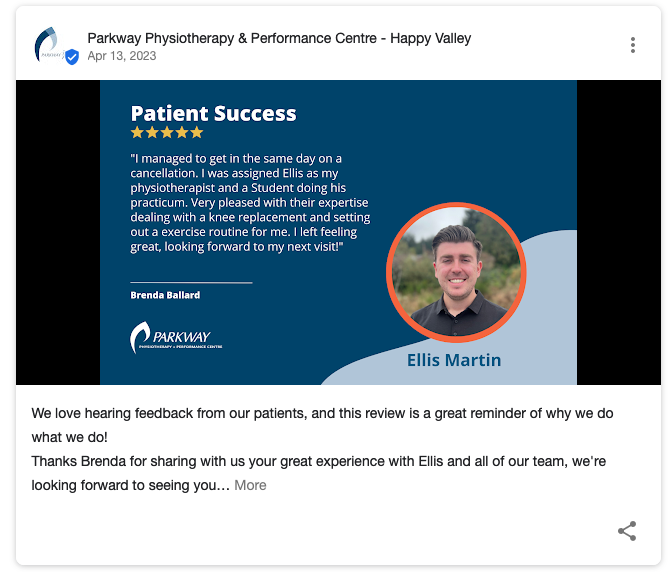 Example 1: "I've had an amazing experience at [Clinic Name]. The staff is friendly, and my physiotherapist has helped me make significant progress in my recovery." – [Patient's Name]
Example 2: "[Clinic Name] has been a lifesaver for me. Their team of skilled professionals has been instrumental in my rehabilitation journey. I highly recommend them!" – [Patient's Name]
4. Offer: Special Discount or Promotion
Example 1: Limited time offer: Book a physiotherapy session this month and receive a 20% discount on your first visit. Don't miss out on this opportunity, schedule your appointment now!
Example 2: Exclusive promotion: Get a complimentary consultation when you book your first physiotherapy session with us. Offer valid until [Date]. Book now and start your path to recovery!
5. Event: Workshop or Seminar Announcement
Example 1: Join us for a free workshop on "Effective Pain Management Techniques" on [Date] at [Time]. Learn from our experienced physiotherapists and improve your quality of life. Reserve your spot today!
Example 2: Don't miss our upcoming seminar, "Understanding and Preventing Sports Injuries," on [Date] at [Time]. Gain valuable insights from our expert physiotherapists and stay injury-free. Register now!
6. Event: Community Outreach
Example 1: Join us at the [Local Community Event] on [Date] as we offer free posture assessments and physiotherapy advice. Stop by our booth and learn how we can help you live a pain-free life!
7. Update: COVID-19 Updates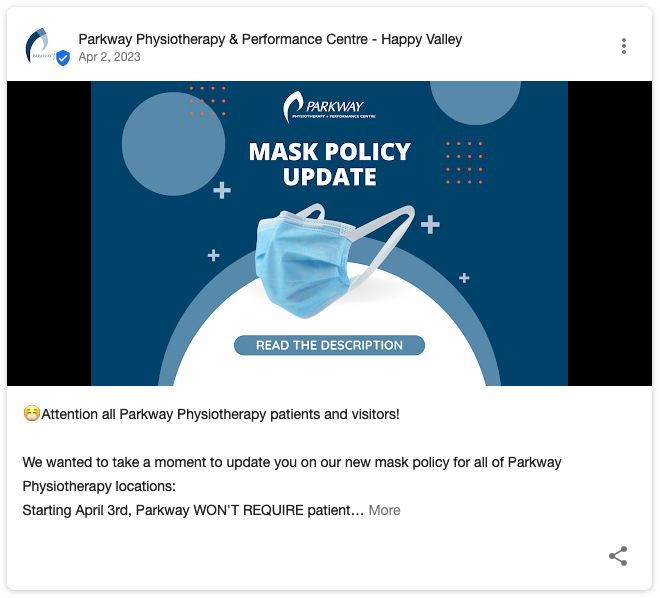 Example 1: At [Clinic Name], your safety is our priority. We've implemented strict COVID-19 safety measures to ensure a clean and secure environment for all our patients. Book your appointment with confidence.
8. Photo: Staff Introduction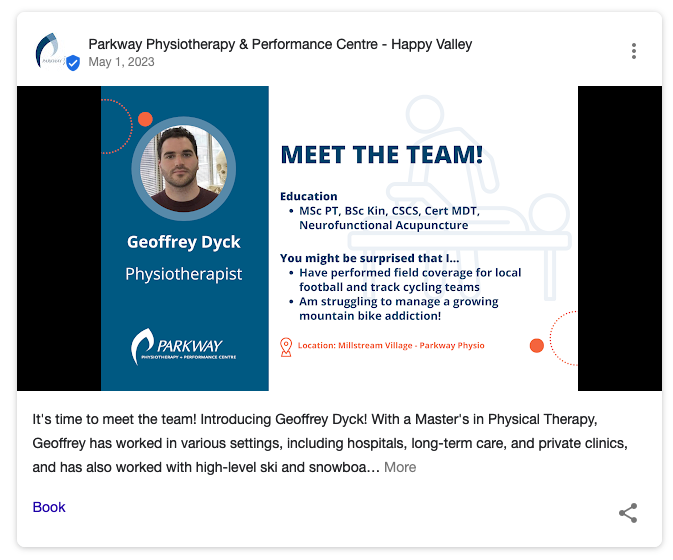 Example 1: We're delighted to welcome our newest physiotherapist, [Name], to the [Clinic Name] team! With her expertise in sports injuries and rehabilitation, she's ready to help you on your road to recovery.
9. FAQ: Addressing Common Questions
Example 1: FAQ: How often should I attend physiotherapy sessions? The frequency of sessions depends on your individual needs and treatment plan. Contact us to schedule a consultation and discuss the best approach for your recovery.
Example 2: FAQ: Can I do physiotherapy exercises at home? While some exercises can be done at home, it's essential to consult with a professional to ensure proper technique and avoid injury. Schedule a session with our expert physiotherapists to create a customized home exercise plan.
Get Your Local SEO Done Right with PatientPartners
Creating the perfect Google Business Post is just one piece of the local SEO puzzle. To ensure your physiotherapy clinic stands out in local search results, trust PatientPartners to handle your local SEO needs. Our team of experts understands the unique challenges faced by physiotherapy clinics and can help you optimize your online presence for maximum visibility and patient acquisition.
Ready to take your physiotherapy clinic's online presence to the next level? Reach out to PatientPartners today and let us show you how we can help you get your local SEO done right.